Welcome to "Venenzentrum am See, ProVena AG"
Your center for varicose vein treatment "by the lake".
For over 25 years, our team has been focusing on the treatment of venous disease. For more than a decade we were located at Klinik Hirslanden in Zurich. Since 2011 we welcome our patients in the former factory building Café Hag in Felmeilen, now "heritage listed". This privileged location just 200 steps from Herrliberg-Feldmeilen railway station offers excellent train connections (S6, S16) and sufficient car parking provides optimal accessibility for our patients.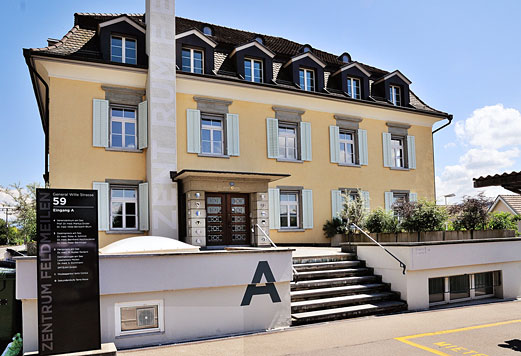 Opening Hours:
Monday – Friday
08:00 – 12:00
13:00 – 17:00
New
Since January 1st, 2016, minimally invasive endovenous thermal ablation (VNUSClosure-Fast and laser) for the treatment of varicose veins has also been covered by basic insurance!
The treatment methods have been greatly expanded and improved upon over the last 20 years, providing solutions or at least relief for almost any complaint. Prof. Dr. med. Markus Enzler, PD Dr. Dr. med. Christian Schmidt, Dr. med. Sabine Schmidt und dipl. med. Lisa Högger have specialized in modern endovenous treatment methods such as thermal ablation of diseased saphenous veins with ClosureFast® and ELVeS Biolitec® radial laser or with new adhesives. Over the years, they have aquired a great amount of long-ranging experience.
The current methods allow almost painless removal of varicose veins on an out-patient basis at our center. Almost all procedures are carried out under local anesthesia. Consequently, neither general or spinal anesthesia, nor an operating room and a hospital bed are required. Rehabilitation and sick leave times are close to zero in most instances. Conventional stripping operations, although formerly a standard procedure, are only rarely indicated today. If so, we carry them out with utmost care at the most respected private hospitals in Zurich, Hirslanden-Zürich.